Superyachts bad, smart meters good.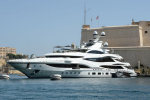 BEIS (the Department for Business, Energy and Industrial Strategy) have just released their long overdue assessment of the cost of the country's smart metering program.  Hidden among the figures is the amount of money that they have spent.  So far, they have squandered £450 million on the project, despite the fact that not a single compliant smart meter has been installed in any house.  By a strange coincidence, that's exactly the same amount as the shortfall in BHS' pension fund which occurred when Philip Green flogged off BHS.
The £450 million hole in the BHS pension fund had MPs baying for Philip Green's blood, threatening to remove his knighthood and demonising him in the press.  The £450 million expenditure by BEIS on civil servants and consultants, with nothing to show for it, has elicited virtually no reaction from Parliament, yet it will end up costing the taxpayer far more.
Let me reiterate this, as it is truly shocking.  Over the last six years, DECC, BEIS and Smart Energy GB have spent £450 million on consultations, developing specifications, fighting Freedom of Information requests and spinning PR stories, yet we have not had a single smart meter installed which conforms to their specifications.  Isn't it time that Parliament stops fuming about super yachts and calls BEIS to account?  Not least, because the latest report from BEIS shows they can't even manage simple arithmetic. Continue →
---