The opposite ends of hearables.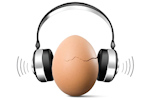 It's been a good month for hearables, at least if you look at the $17 million that Doppler Labs has just raised.  But it asks the question of where hearables are going, as well as what consumers think they're getting?
Doppler Labs started off life a few years ago with DUBS – a high tech earplug aimed predominantly at concert fans to help protect their hearing.  Unlike conventional foam earplugs, the DUBS are designed to attenuate fairly evenly across the audible spectrum, so they reduce the volume without distorting the music.  They appear to have gone down well, with the Coachella Valley music festival buying 135,000 pairs to hand out to attendees.
However, what has got everyone talking is Doppler's recent Kickstarter campaign for their Here active listening earbuds.  2,855 backers pledged $635k to help bring them to life (and presumably to help close the external funding).  The questions are what those backers think they've bought and why?
I ask that because the Here is an interesting device.  If you've not seen it, click Here.  It's not a music player.  If you're wearing it you can't stream music via Bluetooth or a conventional wire.  What it does, some may say all it does, is act as a volume control to attenuate or manage what you hear.  It's almost like a reverse hearing aid, which helps you hear less rather than hear more.  Much of the internal technology is very like that a hearing aid, but its application and customer base are very different.  That makes it a very interesting product in the hearables spectrum.  I suspect it may have an important impact on the hearing aid industry, but not in the way many might imagine. Continue →
---