It isn't savings, it's comfort…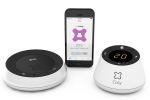 Once upon a time there was a start-up in California that thought that the world needed a smarter thermostat. Headed up by some ex-Apple executives, they raised over $80 million for their company and three years later sold it for $3.2 billion. That company is Nest Labs.
Four years before Nest was formed, two experienced technology start-up executives in Cambridge thought that the world would benefit from energy use reduction. Their solution was to design a smart in-home display which showed householders how much energy they were using. They've sold almost 1.5 million of these. From that experience they also decided that the world needed a smarter thermostat. Because they had limited funds to complete its development (largely because DECC had constantly delayed the UK smart metering market for their IHDs), they decided to use the crowdfunding site Kickstarter to raise enough to make the first prototypes. They didn't raise $3.2 billion. They didn't raise $80 million. They only just scraped together $32,000 before the Kickstarter campaign finished. To put it into perspective, that's equivalent to the UK retail cost of just 80 of Nest's smart thermostats. This company is GEO.
I don't know whether GEO's smart thermostat – called Cosy, is any better or worse than Nest's. They both look attractive, competent products from companies that know what they're doing. GEO's appears better suited for a Northern European climate, where most energy expenditure goes on heating in winter. Nest's is probably better for homes with air conditioning as well. But the one hundred thousand times difference between $32k and $3.2 billion that investors are prepared to put into two different smart thermostat companies suggests that certain sectors of the smart thermostat market may be at serious risk of overheating. Continue →
---