Good for earbuds; bad for hearing aids.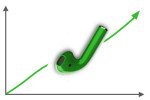 "It was the best of times, it was the worst of times…" Dickens' could have written that opening line to preface an account of the Covid year for the hearables industry. Over the last six months consumer demand for earbuds has risen to an unprecedented level. In contrast, hearing aid manufacturers have been dealt a body blow, with sales tumbling by up to 75%. As one industry executive put it "we'd have done better if we were an airline". Covid has also had unexpected effects on the service industries which have been traditional drivers of hearables growth. Audio streaming services like Spotify have seen listening times go down, while video streaming and video conferencing have experienced unprecedented demand.
As countries came out of lockdown during the summer, we saw further shifts in usage, but it's apparent that overall, hearables have done well out of the crisis. That trend looks set to continue as we face a second wave of the pandemic and further lockdowns.
Continue →
---