Who wants to be a hardware company?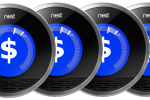 You can normally expect CES to set the technobabble agenda for the first few months of any year, but this year, despite the hubbub about Wearable Devices, Home Automation and the Internet of Things, CES played second fiddle to the much bigger announcement of Google paying $3.2bn for Nest. On the face of it, it's an outrageous amount to pay for a hardware company. The announcement a few weeks later that they were selling off Motorola Mobility for around the same amount made it look like some giant game of cards.
The initial reaction to the Nest acquisition from many commentators was that this just validated their view that CES was heralding the start of the Home Automation market. Long term players, like Control4, saw their share price rocket overnight. Most start-ups in this space have been complaining that their VCs dedicated their next board to persuading the CEO to redesign their business plan in the hope of emulating the Nest sale. On the other side, doomsayers predicted the demise of anyone else in the field as the Mountain View leviathan would take over Home Automation.
Most of what has been written feels like a knee-jerk reaction. What surprised me most was the speed with which Google rushed to say that it would not be using the data from Nest's thermostats. That announcement came too quickly to be a reaction to media speculation about the data behemoth's new-found ability to learn even more about users. It made no sense given Nest's purchase value. It was like a top restaurant hiring Heston Blumenthal and then saying they were only employing him to go out and collect their lunchtime sandwiches. Google is about data. Why pay $3.2bn and then throw the associated data opportunity away? It implies that there's a lot more behind this acquisition. Continue →
---