Alexa, I want to go home…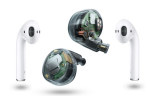 In the five and a half years since I coined the term "Hearables" the market has grown at an amazing rate. At the time I estimated that the market for the things we put in our ears might grow to $7.6 billion in 2018. I think it just nudged over that to reach $7.8 billion. What I hadn't anticipated was the success of Apple's Airpods, which are driving adoption even faster, more or less doubling their sales volume every year. With the recent launch of Amazon's Echo Buds, which could attract a new audience with the promise of a life which is "Always Alexa", as well as the availability of a growing number of Bluetooth enabled hearing aids, the market looks as if it could reach $22 billion in 2020.
Hearables had a slow start. Although Apple probably started its Airpod design project as far back as 2013, the first thing that the public saw was Bragi's Kickstarter campaign for their Dash earbuds. In March 2014, the Dash became famous as the most heavily funded Kickstarter project, raising $3.4 million. Another crowdfunded startup – Earin, beat them to market by a few months, but Bragi eventually got the Dash out in February 2016. In that first year of hearables, (or the first fifty-one weeks, as Apple finally started shipping Airpods in the last week of the year), global shipments from all manufacturers were probably not much more than 100,000 units, most of which were the early MFI compliant Bluetooth hearing aids. In that last week of 2016, Apple probably sold more Airpods than the rest of the industry had shipped through the course of the year. Four years on from that humble start, 2019 will probably see 75 million sets of hearables shipped. That makes hearables the fastest growing tech product ever.
Continue →
---