Should we trust a minister who literally gambles on our health?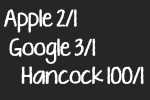 We regularly read about fraud in sport, whether that's cricket, football or horse racing, where a player accepts money to affect the result. There are arrests, trials and the culprits either banned or sent to jail. But what happens when a Government Minister takes a bet on a Government policy and then manipulates the data to win it?
It may sound bizarre, but that's what has happened here in the UK, with Matt Hancock, our Secretary of State for Health. In an interview on LBC with Nick Ferrari, he was asked if he would take a £100 bet on reaching his target of accomplishing 100,000 coronavirus test each day by the end of April. Anyone with a scrap of morality would have answered "I don't gamble on people's health", but not young Matty. Although not an ex-Etonian, like many of this cabinet colleagues, Matty always looks as if he wants to be seen as one of the posh boys who likes a flutter. After a brief hesitation, he accepted the bet on behalf of NHS charities. I'm sure that Nick Ferrari thought he was betting on a certainty, unaware that the result was about to get fixed.
Continue →
---